Pet Friendly Apartments in Denver
Looking for pet-friendly apartments in Southwest Denver? Look no further than Live on South Federal Apartments! As one of the few pet-friendly communities, we proudly allow cats and dogs here. Now your pet has the opportunity to relax by your side and enjoy the comforts of your apartment home.
Our Pet Policy
Our community allows dogs and cats
We welcome pets upon approval
There is a limit of 2 pets per apartment
Pet Fees
$350 fee per pet
$35 per month per pet
For further details on our pet policy, please contact our office staff.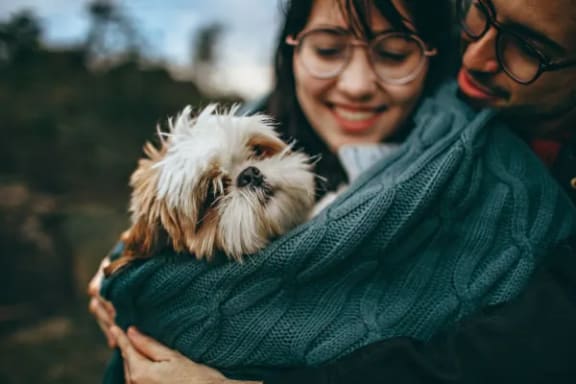 Testimonials
Love the new staff they really go above and beyond to accommodate us residents.

- Google Review
Its a really nice living community. There's a school and plenty of parks by here. A lot of family oriented people. Very nice leasing office. The staff has been very responsive anytime I communicate with them. They're really nice people that offer newsletters monthly with resources to help the residents because they do care.

- Facebook Review
I just moved. I took a chance since I read under new ownership. So glad I did. Great staff, wonderful space. Highly recommend.

- Community Review
I live at Federal terrace. Have lived here for 2 years under not very good management. I was thinking about not renewing my lease. But after the last 30 days I see this management company will do great thibgs for its people Starting with they are installing new metal doors to the laundry room to keep unwanted people out. Any time I have been to the office they are very attentive. Unlike past company they

- Google Review (Feb 2022)
I had the most amazing experience with this property. The team was very nice and professional and the apartments have a warm welcoming environment.

- Google Review (Feb 2022)
It's hard to find great customer service these days, but the way I was greeted and the service I received from Ana and Dominick truly made me feel welcomed!

- Google Review (Feb 2022)
Ana and Dominick are very helpful with the leasing process!!!

- Google Review (Jan 2022)
The owner was very helpful and I had a great experience!

- Google Review (Feb 2022)
There are always different perspectives and my experience was great! No complaints from me at all. The leasing agent was awesome and showed me around the property and took the time to show me the amenities they had and answered all my questions I had.

- Apartment Ratings Review (Feb 2022)
I really like the office and maintenance workers. And the apartment has a really nice floor plan especially for the price.

- Move in Review (March 2022)
Rudy has been a big help and was very friendly and very helpful about everything. He definitely made the process easy, e was a big help. Thank you!!!

- Move in Review (April 2022)
The maintenance man that came to check on the leak and fix my toilet or my sink was very polite got it done quickly efficiently and I

- Work Order Review (March 2022)